要瀟灑一點,要對朋友好一點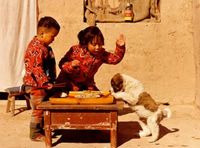 For A Special Friend

Now that you're going
I think to myself
How will I go on?

You were the one,
Who helped me decide between right & wrong,
Who taught me how to make decisions,
and always walk headstrong.

I'll miss the long hours we spoke?D
And the solitary moments of your thoughts.
I'll miss the fights we had,
And the long mails that we wrote.

Will miss your weird but funny voices,
That you spoke with all the time.
Will miss your sweet good night talks,
And also your thoughts at night.

You were the only one,
Who made me laugh like no one could.
Loved talking to you,
Because that brought me closer to you.

I'll miss those times you screamed at me,
& thereafter, the apologies you'd make.
I'll miss the fun we use to have,
When we spoke time 'n again.

You always were there for me,
When I needed a shoulder to cry on.
You were always there,
My friend to rely on.

You were my teacher, will this while,
But now tell me... whom do I go to?
I'll feel a vacuum in my life,
When you go away.

But, Promise me one thing,
That wherever you are, or whatever you do,
You will never forget me.

那個女孩子已經和他喜歡的男孩正式拍拖了.祝福她,感情的問題真的要拋開才行.自己其實已經習慣會有這樣的一天,因為有很多的跡象可以尋找!
第一次和congee,高妹和嘉盛一行四人到仙跡岩飲東西,很好的感覺呢,希望再有這樣的機會.
想不到原來自己說話時往往令到一些朋友不快,例如:今天叫高妹時,語氣太重了,希望她能原諒我